Wednesday, 18 October 2017
Diwali in Goa
The festival of Ganesh Chaturthi or Chovoth is at the very heart of Goan culture, tied in closely with local traditions and the coming together of family. Diwali in Goa, however, is more popular with its lights and colourful fireworks, sweets, and shopping festivals.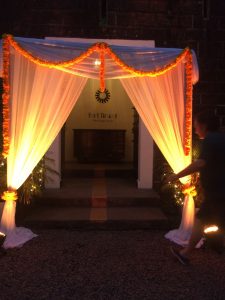 When you celebrate Diwali in Goa, you will want to enjoy both a charming getaway but also a place that affords a glimpse of festivities of a different nature. Check into Fort Tiracol Heritage Hotel straddling a cliff at the very tip of Goa's frontiers where you will find the perfect place to engage in the festival's pomp and gaiety exactly the way you wish.
A different story
The Diwali tradition popular across India is of the triumphant return of Lord Rama to Ayodhya after 14 years in exile, and the celebration of Goddess Laxmi – her birth from an ocean of milk, and her marriage to Lord Vishnu.
In Goa, however, it is the victory of Lord Krishna over the evil Narakasura that is celebrated. Leave your cocoon at
Fort Tiracol Heritage Hotel a little before sunset and explore the villages and towns by bike or car. At every crossroad, near a temple or at a central square in each vaddo, you will find representations of Narakasura. If you arrive well before Diwali, you could be prompted to join in their creation, using old newspapers and dry hay from the field.
They are given horrendous-looking faces and display the creativity of youngsters from the locality. You will want to keep your camera handy, for just before the break of dawn on Diwali, they will be set ablaze to much cheering. Preceding this fiery festivity, each group will play music – from Bollywood hits and the latest contemporary music to even Goa trance. They will dance and make merry before re-enacting Lord Krishna's destruction of Narakasura.
Clay and colour
Pontis, or tiny clay pots, are filled with ghee or oil and lit at the wick, symbolizing the triumph of light over darkness. Children come together to make akaashdivos or lanterns that are hung in their homes to welcome Goddess Laxmi who is believed to roam the earth that night. Intricate rangoli patterns adorn the thresholds of every home to encourage the goddess to enter.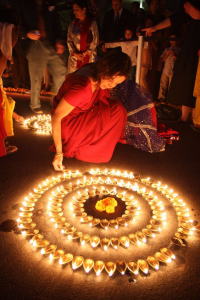 Women in Goa wake early on Diwali morning to prepare a special mixture called utnem, made of sandalwood, scented oils and other fragrant ingredients, which are applied to the body before bathing. The family wears new clothes and together conducts the Laxmi Pujan, praying for prosperity and success of all.
Rice and spice
Everyone takes a bite of the bitter karit fruit before feasting on five different dishes made of beaten rice or fov. These include batata fov (a savoury dish with potato), doodhantle fov (a sweet dish with milk), buttermilk or curd fov, rosantle fov (made with coconut milk) and kalayle fov (a savoury dish mixed by hand).
But this isn't all. A visit to a local home during Diwali in Goa will leave your tastebuds tingling in delight. You will feast on mangaane made of chana dal, sabudana, cashewnuts and coconut; ambadyanche sasav, a sweet-sour curry made with local hog plums; and white vatana usal, a spicy curry of dried peas.
Snacks are aplenty. There's the ever-present churmure – a sweet-spicy sticky mixture of rice crispies or cornflakes, jaggery, grams, peanuts, chilli powder, ginger juice and sesame seeds; the crispy chakli, and the sweet shankarpale.
Many of these dishes and treats are missing from menus in restaurants across the state, so ask a local to treat you for an authentic Diwali experience in Goa.
As you take in the cool evening from your private terrace in the Friday room at Fort Tiracol Heritage Hotel, you will be far away from the noise of firecrackers, but will have one of the best views of the fireworks display in Goa. They will ring in the Hindu New Year with the sky lit up in a myriad colours.
There's always more
The close of Diwali festivities across India is marked by Vhodli Diwali or Tulsi Lagn – the wedding of the Holy Basil. It commemorates the marriage of the Goddess Tulsi, a manifestation of Goddess Laxmi, to Lord Vishnu. In Goa, however, it marks the beginning of the zatra and wedding season.
Temples across the state begin celebrations honouring their deities, a pilgrimage of sorts where families return home to their villages. Zatras are marked by processions of the deities on a special palanquin, prayers, lots of lights and sweets. These zatras will continue until the Shigmo festival in spring.
Diwali in Goa isn't just a single-day affair. It's a celebration that brings in light and festivities that continue through the months that follow.