Tuesday, 01 November 2016
Wedding Venues in Goa
There's wedding venues, and then there's Wedding venues Goa. Nothing quite strikes the heart like the love of your life against the most gorgeous backdrop you've ever seen especially in Goa. Never mind that you'll bicker for the rest of your lives over whose fault it was the wrong napkins turned up at the reception.
With five-star 'marriage hall' receptions so passé, we're helping you pick out those off-beat wedding venues in from Tiracol to the south encompassing beach river and field surroundings that will take everyone's breath away. You'll be that bridal couple with a difference with a unique selection of Wedding venues Goa.
Fort wedding @ Fort Tiracol Heritage Hotel, Tiracol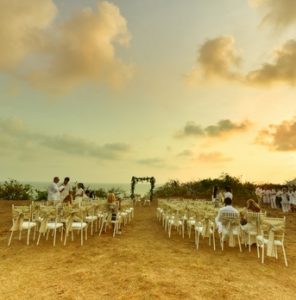 If you want the perfect view, the off-beat location, the tranquility, that sussegado feeling, and the most delicious wedding catering in Goa, head straight for Fort Tiracol Heritage Hotel. Perched on the northern edge of Goa, looking out over a 240 degree view of the Arabian Sea, the centuries-old fort is alive with history and architecture. Throw in a spectacular sunset and wrought-iron dinner set ups over rustic laterite stone flooring and you have a perfect wedding venues Goa.
Beach wedding @ Beach Street Resort & Spa, Mandrem
It's indeed a thousand splendid sunsets at Beach Street Resort & Spa. Dispense with those regular beach weddings in Goa, and pick a day and pack your bags. It's got authentic beach hut accommodation, comfortable yet rustic and
enough to house your close family. The central building – the only permanent construction – houses the spa, yoga, reception and gorgeous swimming pool with changing areas. You haven't seen any beach wedding venues Goa quite like this.
Farmhouse wedding @ Avanilaya, Aldona
Here's where you have your fairytale luxury farmhouse Wedding venues Goa. Dainty lights twinkle across the event spaces at Avanilaya to create one of the most magical wedding venues Goa. Imagine formal seating on perfectly manicured lawns, understated lighting that pieces together a romantic tale in wedding photographs, and a lush banyan tree pouring its blessings over sacred ceremonies. The central courtyard offers the ideal place for colourful sangeets and mehendi events while the lawns by the pool diffuse an air of enchantment for cocktails and dinners.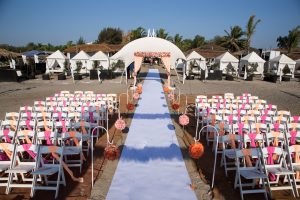 White wedding @ Marbela Beach Resort, Morjim
Go classic with a twist. Exchange vows as swathes of virginal white cloth billow in the breeze. Let the night come alive with classic cocktails served at an island bar in the middle of festivities, seating in cosy lounges or intimate cabanas and teepees right on the beach, and a menu that excites the palate. Marbela Beach Resort merges pale beach and verdant lawn with stark white everything – from beach accommodation to restaurant, décor and private indoor club – to create your dream wedding venue in Goa. Witha location unblemished by paint, you can colour your day crazy with unforgettable memories at one of the most sought after Wedding venues Goa.
Heritage wedding @ Siolim House, Siolim
This one's for small, intimate nuptials and receptions but will stay on in your guests' hearts forever. It is 350 years old and was once home to the governor of Macau. It sings of old architecture and carefully preserved antiques and offers pretty lawns with water bodies that make for a picturesque setting. It features 11 rooms of different categories and exquisite home-like luxury hospitality.
Siolim House is one of the most perfect intimate heritage wedding venues Goa and indeed of the best in the country.
Riverside wedding @ Bay 15, Odxel
Want a gorgeous sunset without the sand? You can have the whole khandaan and their cousins-in-law attend your big day at this riverside wedding venues Goa. With space for up to a thousand guests and a gorgeous setting, you can have cabanas on the lawn or formal seating under bedecked pergolas, picnic-style tables or even futons if you so wish. For your wedding night, choose their pretty wooden chalets that skirt coconut trees overlooking the river.