Tuesday, 16 May 2017
Monsoon activities in Goa to die for
Monsoons in Goa are that oft-overlooked time for Watersports Activities in favour of vacations that interestingly offer a mentally more relaxed vacation especially when thinking of the area of the Fort Tiracol Heritage Hotel in Pernem, Goa . It is now the fag end of 'season time' in Goa when one must anticipate gustier winds, sweltering heat turning into thundershowers and swelling water bodies. This time of tumultuous climatic change is one of the most dramatic and best times to visit the coastal state. So here's a list of things to do in Goa when you thought the weather would play spoilsport.
Kite Surfing, Wake boarding, Stand UP Paddle boarding(SUP), and other Boardsports:
With the winds picking up and the swells threatening to leap higher, kite surfing and wake boarding offer the perfect recipe for adrenaline pumping water sports. You might want to reconsider if you're a beginner owing to the choppy waters, but pros can definitely find a good challenge out on the Arabian coast. Ashwem and Morjim are two of the best beaches in Goa for these sports, being blessed with uninterrupted stretches of ocean, wide shorelines, and mostly flat terrains. Get in touch with Vaayu Ocean Adventures during your stay at the gorgeous Fort Tiracol Heritage Hotel to effortlessly combine adventure and luxury.
Once the monsoons hit and you feel a bit shaky, go inland and enjoy stand up paddling on calmer riverine waters or even the many lakes that offer secluded yet beautiful locales. You can learn surfing with Banana Surf School or rent with Surfwala, both a short drive away from Fort Tiracol Heritage Hotel, Pernem Goa, where you'll get the best lunch your post-surfing appetite craves.
White water rafting:
Explore UN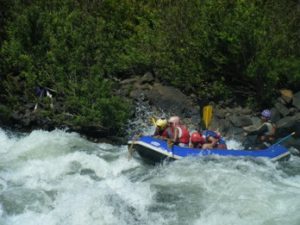 UNESCO's new World Heritage Site – the Western Ghats – on a bumpy craft that challenges your buoyancy skills. In the thick of the monsoons, the torrential rain sends thousands of kiloliters of clear water gushing into the Mhadei River, forming Class III and IV rapids. John Pollard runs Southern River Adventures and is one of the amiable guides on white water rafting trips on the river in Dodamarg. Afterward, head to Fort Tiracol Heritage Hotel for luxury accommodation to soothe those aching bones.
Hobie Cat Sailing:
Sailing may not come across as the kind of sports one engages in here in Goa, but a niche following has enjoyed its thrills for at least a decade now. Pre-monsoon weather brings skills into play, and you are blessed with the pure sounds of the ocean far out from land. Ask Mark Butt who organizes thrilling trips along Goa's coast, ones that can only be topped by a relaxed dinner at Fort Tiracol Heritage Hotel.
Backwater kayaking:
Imagine a drizzle over a lush mangrove, a rivulet treading through, birds huddled under lea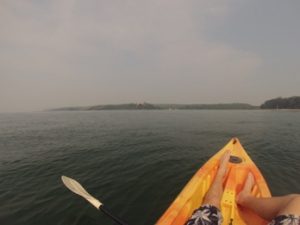 ves, clouds covering the sun, the only sound a light tapping of raindrops on water and the splash of your oar. Otherwise, imagine a breezy day with choppy waters ploughing through these same rivers, a challenge for your kayaking skills. Backwater kayaking is one of those under-the-wrap activities that are up for the asking but no one cares to indulge in. This works to your advantage as you'll have the stunning beauty of Goa's rivers all to yourself. Ashwin Tombat of Adventure Breaks is the man to get in touch with, to mark out beautiful courses to paddle through and excellent company when kayaking in Goa. Make your way down the river winding by Fort Tiracol Heritage Hotel for one of the most sensational monsoon experiences ever.
Trekking- Cliffside and Ocean Treks:
Goa is blessed to be in close proximity to the Western Ghats, a biodiversity hotspot teeming with a wide range of
flora and fauna. Trekking is the best way to get up close and personal with the forests that surround this pretty state. You are less likely to bump into large wild animals during the monsoons as compared to the hot, dry months when they approach perennial sources of water to quench their thirst. On the other hand, monkeys, small mammals, tons of brightly coloured insects and birds celebrate the monsoon. Trek through wildlife sanctuaries with Offtrail Adventures or try an ocean trek – an eye-opening walk along a mountain overlooking the sea – with Adventure Breaks. The starting point for the latter's 10-hour Ocean Trek Arambol is just a ferry ride away from Fort Tiracol Heritage Hotel.
Cycling:
Take the road less traveled on a mode of transport less appreciated. Cycling across Goa perfectly complements that sussegado lifestyle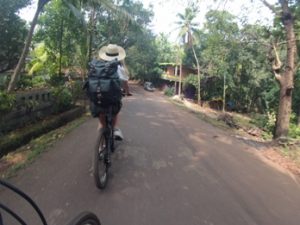 you've come to know and love. It's an excellent all-weather activity that gets just a tad bit more fun when every puddle you splash through takes you straight back to childhood. Take a tour or strike out on your own with a rental – CyclingZens has options for both – and discover Goa in a different way. It's a great way to discover the nature-rich vicinity of Fort Tiracol Heritage Hotel.