Friday, 15 December 2017
Insomania by Soma Project at Fort Tiracol;: What Dreams May Come;
As the longest night of the year descends on Goa, so does a celebration of the winter solstice. In commemoration of this night, Fort Tiracol Heritage Hotel is joining hands with Soma Project for a spectacular event that promises to meld culture, history and music into a unique experience Insomania by Soma Project – What Dreams May Come.
On December 22, it transforms the mysterious nighttime aura of the stunning Fort Tiracol Heritage Hotel into a space filled with a sense of theatre.
Putting the spotlight on two of the most prominent locations within the fort, Insomania by Soma Project highlights the historical courtyard with its ancient Church and Fort as well as the structure's impressive bastion that juts out into the Arabian Sea.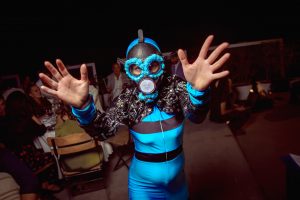 The first stage is set up in the historical courtyard. The second stage is accessible by an old laterite stairway that descends through a curtain of greenery to reveal the stone bastion that offers a stunning view of the sea. Across these two stages, renowned DJs from across the world will set the mood for the longest night of the year.

Stage A features Ankitrixx and Priyanjana from India, Baba Robijn from The Netherlands and Sense8 from Russia. On Stage B, guests will hear the latest tracks by Heiko Laux from Germany, Sashanti and Victoria Mescalito from Russia, Karan Bhoj and Shaun Moses from India and Jewlung from Israel.
Three other areas will also be part of the Insomania by Soma Project experience, including an interactive stage populated with more than 50 highly talented artistes, from live face painters, fire dancers, and acrobats to a host of other thematically created characters.
Insomania by Soma Project at Fort Tiracol exudes an exciting vibe at a super exclusive festivity that is designed to blow your mind. Tickets, Tables & Room bookings only available in advance.
Please contact Sinead on 9860873300 for enquiries & bookings.